Plumber SEO: A Straightforward Guide
In any given location, a number of small plumbing businesses are competing for service calls and clientele. Given the set area these businesses can service, the list […]
In any given location, a number of small plumbing businesses are competing for service calls and clientele. Given the set area these businesses can service, the list of potential first time and repeat clients is quite short. That means competition is fierce, and any leg-up on the competition can mean big business for a local plumber. 
If there's any trade that continues to prove its everlasting and always-growing importance, it's plumbing and HVAC. As other industries gain innovative tools and techniques through the use of technology, plumbers and HVAC professionals continue to be one of the most sought-after service hires in the country.
When you consider the universal need for HVAC and plumbing service experts to fix homes, offices, and other fixtures, there's never a bad time to be a plumber. The skills of these professionals are always going to be relevant to communities around the United States.
So what's standing in an HVAC company or plumber's way of regular service calls? In most cases, it's the difficulty that potential clients have in finding their services when they need help.
Industry technology is advancing, and so are the digital measures with which plumbers and HVAC companies earn new customers and build brand visibility within regions of their operation. Like any local business, plumber SEO is a key element to growing an online presence and establishing a brand. With a constant need to grow and expand clientele, SEO offers plumbing businesses an affordable way to grow online reach while simultaneously promoting their plumbing or HVAC services.
Let's go over the importance of SEO for a plumbing or HVAC business, as well as key initiatives to help start increasing service calls and help plumbers become the most trusted brands in their service area.
Why Use SEO for an HVAC or Plumbing Business?
Grow the Business and Increase Service Calls
First and foremost, the primary goal of a plumber or HVAC contractor is to increase the number of service calls you receive. Without calls, there's no development for business, and no chance to become someone's go-to in the wake of pipe or tank problems.
For plumbers and HVAC contractors, service calls are the entity by which small businesses live and die. Just a few decades ago, taking out print ads or radio spots helped earn a number of potential leads. The medium has since moved to digital spaces like major search engines and social media. But, the concept stays the same: getting your name out there is the only way to get new customers and boost ROI.
Use Search Engine Optimization to Find Clients in Need of Service
If potential customers are going to find your business to make a service call, then you first have to find them. SEO is a key strategy for finding customers in the places they look for services.
As mentioned, there's no more scanning the yellow pages or checking the newspaper to see who can help with a burst pipe. Now, people simply do a Google search.
In doing so, the terms and keyword phrases clients use almost always come from a need. Today's search engine users are rarely searching for things without the strategy of satisfying their search quickly.
For example, they won't search "find me a plumber," and search through hundreds of search engine result pages. Instead, they'll search for something like "plumber near me" or "best plumber in Columbus" and work their way down from those appearing at the top of Google.
As a plumbing or HVAC business owner, you cannot bank on someone finding your business listing when ten or even five businesses' web pages are listed above yours. In order to increase your ranking, you will need to improve your site SEO. If you don't have SEO best practices implemented into your website right now, there's no need to accept your poor search results. It's never too late to take the first step in implementing digital marketing strategies that can boost you higher in search rankings. Better yet, the process of implementing plumbing or HVAC SEO fits hand-in-hand with the things any plumbing or HVAC business is already doing to market their services.
For example, any plumber that features free consultations is going to use that feature to increase service calls. Why? Because that's what potential clients want to see: a reason to pick your small business over another plumber. With SEO, combining services you believe are selling points with strategic keyword phrases and terms helps put you above the competition and in line to be your service area's go-to plumber.
What is HVAC and Plumbing SEO?
If keywords are a primary element to plumber and HVAC SEO, then how do you start choosing what's going to work? As mentioned, keywords should be terms and phrases you know customers are searching for. This includes everything from plumbing services you offer to features that you implement to beat out the competition, such as free consultations or weekend availability.
An HVAC or plumbing company's keywords directly address the needs of the client. By seeking out the things customers would want to know, you in turn place yourself right in the crosshairs of popular searches that are proven to become service calls and business.
A keyword strategy should include both simple and complex – or long-tail – phrases and terms. Simple keywords can focus around the HVAC or plumbing services you offer. Long-tail keywords can be more situational, focusing on instances that someone might search for a plumber. The latter usually involves words or a phrase someone uses when doing a Google search to fulfill a specific need. A great example is the phrase "emergency plumbing," which clearly indicates the immediate need for assistance. By utilizing that and related keywords on your web pages, along with other strategic phrases, your plumbing company can be the first result that someone sees when they need your services most.
Likewise, local SEO connects potential customers in your service area to your website, and in turn, your business. Things like "plumber in Los Angeles" or "HVAC services near Frisco" can be what many clients search when looking for someone nearby. As a customer, proximity often means timely service, and that's a huge selling point you can take advantage of by using location-based SEO.
An HVAC or plumber SEO strategy doesn't yield immediate results. Google analyzes web pages for richness and rewards them with higher listings accordingly. However, starting to implement an SEO campaign now means a successful future for months to come. Any current digital marketing plan you have in place for your HVAC plumbing business fits into an SEO strategy perfectly.
Don't change what you're doing, or the technical services you offer; simply use them more strategically within your website content by leveraging SEO keywords to reach more customers.  That's another perk of an HVAC or plumber SEO strategy: the goal of increasing a business listing's search ranking already fits hand-in-hand with what you want to accomplish as a small business owner.
How does SEO fit into a Plumbing or HVAC Business Plan?
Any plumbing or HVAC business is going to feature a number of different pages on their website. For example, a services page is essential to show site visitors what plumbing or HVAC services you provide to customers. By integrating an SEO strategy into your services page, you can help potential clients reach their most vital web pages faster and in a more convenient manner.
What's involved in an SEO campaign is far from an overhaul of an HVAC plumbing website. Rather, the implementation of keywords and phrases elevates the site's richness according to Google's standards. Marketing practices already in place, such as paid ads on social media sites or traditional media efforts don't need to go away. Rather, a plumbing or HVAC SEO strategy elevates the first point of contact most customers have with a business when searching for HVAC or plumbing services online.
Not to mention, SEO is incredibly budget-friendly. Unlike other marketing efforts, you don't need to break the bank to achieve a higher ranking among search results. Even paid SEO experts that help pinpoint targeted keywords for your area and clientele don't cost as much as other marketing methods. Essentially, search engine optimization is the fastest-growing and most effective method of getting new customers, and it doesn't even need to significantly impact your business plan.
Increasing visitors to your website home page and service pages means two crucial things happen in the process of increasing service calls. Firstly, web visitors who come across your business page via a search engine get an introduction to your company. Keeping that in mind, it's important to also feature SEO phrases on your homepage. Secondly, once on a website, clearly organized services and optimized website content help to begin the process of converting that visitor to a potential client.
Trends in HVAC and Plumber SEO Strategies
A few key trends are helpful in implementing a plumber or HVAC SEO strategy. Firstly, like we mentioned earlier, local SEO is going to be one of the most proven ways to reach your core audience. As an HVAC company or plumbing business, your core audience is going to be potential customers in your service area. Targeting things like locations, cities, and areas ("Miami Beach area") in your keywords is going to effectively rank you higher to the customers most likely to use your services.
SEO is also a growing trend in the management of lead generation. By pinpointing keywords that prove to lead to service calls, plumber companies and HVAC contractors can manage which keywords are bringing in more leads than others. Online efforts, including SEO and social media, generate more leads today than traditional forms of lead generation.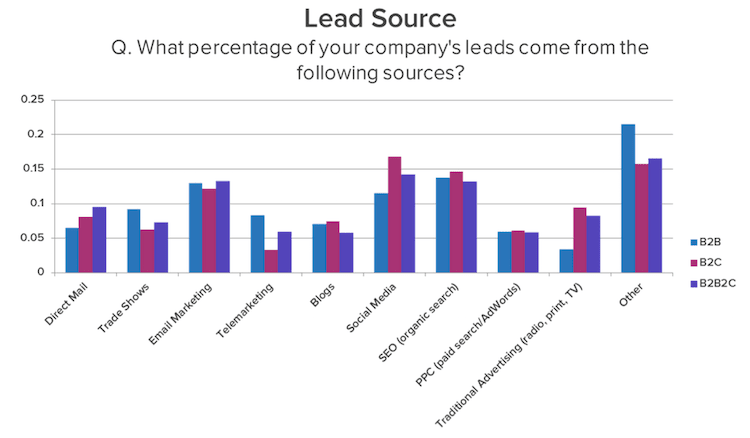 Lastly, a top trend in plumber and HVAC SEO is utilizing customer recommendations as a feature of optimized web pages. You should by no means add keywords into your customer feedback; doing so is unethical. Instead, the customer recommendation page of your website could lead with a paragraph explaining that you are a "top rated plumbing company in 'X' location," or use the sentence "check out why we're one of the most trusted HVAC contractors in the 'X' area." Doing so places customer recommendations on business pages likely to come up in certain searches.
How to Develop an SEO Strategy for a Plumbing or HVAC Company
Establish a Keyword Strategy
To begin implementing an HVAC or plumber SEO strategy, you'll first want to obtain keywords. There are two ways to go about finding keywords relevant to your business. Firstly, you can type in your plumbing or HVAC services to Google and see what comes up in Autofill. Autofill is the algorithm that predicts what you're searching for. So, if you type in "plumbing," your autofill might give you things like "plumbing in 'X' area" or "plumbing near me," showing you what to target.
A more effective way to obtain keywords is to use a dedicated keyword research tool. These tools are much more accurate in defining keywords that are more likely to work for your HVAC or plumbing company.
Trends in Plumber SEO
A crucial element to growing a plumbing business online is obtaining a Google My Business Listing. Customers searching for HVAC services turn to Google more than any other search engine. With a My Business Listing, users get an organized, detailed set of information regarding everything they need to know about requesting services from you.
It's crucial to have a My Business Listing because most questions a potential service caller has about your business is likely to be answered on this page. They might wonder about your hours, availability, or even how to get in touch with you. Rather than hope that they dig into your website for this information, Google's My Business Listings keep it easy for them. As we all know, the easier it is for a client to find your business, the more likely they are to call you.
Enhance Site SEO with Optimized Content
The next step after obtaining plumber or HVAC SEO keywords is to implement the words or phrases into your onsite content. Including related keywords on web pages like your services page, about us page, or contact information page help those vital business pages rank higher on search engines. Be sure to use things discussed above like local SEO, or service phrases and features like "weekend plumbing service," as well as things you discover in Google AdWords or organic keyword searches.
To Blog or not to Blog
Another step to consider is whether or not you want to start a blog on your website. On a blog, customers can learn more about particular topics for which customers often search. For example, a blog about Spring HVAC checklist items to consider heading into a new season can be great for web traffic, provide an organic place to use SEO keywords, and promote your HVAC services and specials. You can share these blogs on social media, as well as use more keywords in your web content to increase traffic.
Track Performance with Google Analytics
Lastly, setting up your plumbing or HVAC website with Google Analytics is an easy way to track how your web pages are performing. The easy-to-use layout of the program provides detailed information about how many clicks your site has, as well as other things like exit rate and room to implement Pay-Per-Click marketing.
Since Google is the primary search engine that potential clients are using, it pays to know what the search engine can tell you about your site. Analytics will even show you multiple areas in which you could improve your site, which is extremely handy.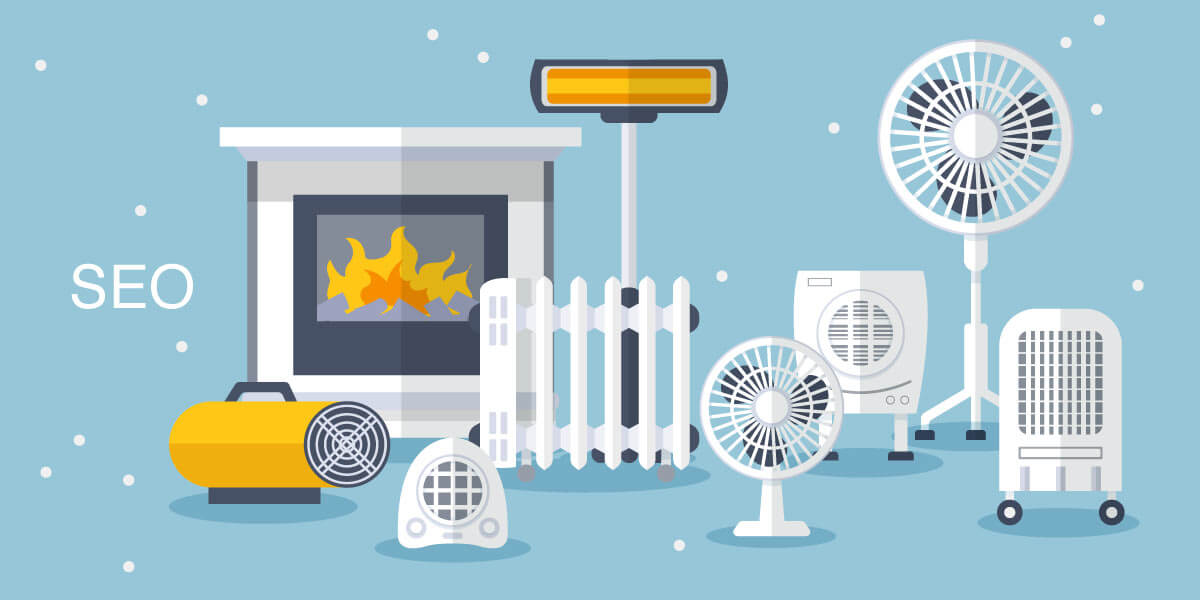 Final Thoughts
A successful HVAC company or plumber business needs a combination of current clients as well as constant lead generation. An HVAC or Plumber SEO strategy targets both of these key areas of interest, and helps to increase the number of people in your service area calling your business when needs arise. Your competition is likely already using SEO services or internal strategies to target customers that could be choosing your business if you were easier to find. Getting ahead of the curve means being able to turn your plumbing or HVAC business into a brand local customers know and trust sooner rather than later.
If you are new to the game in terms of your plumber or HVAC SEO strategy, it's never too late to start using these tactics in your digital marketing. The future of services like plumbing and HVAC rely on search engines like Google, where customers can type in what they need and find it immediately. Have your business page be the first thing your potential clients see when they do a Google search for local HVAC or plumbing services, and build on the business you have now in massive ways. It's all possible with SEO.