Keywords 101: What Are Keywords in SEO?
What are keywords and what role do they play in SEO? Learn about important keyword metrics and how to use them to select your SEO targets.
For anyone who wants to drive organic traffic to their website from search engines, it's important to have a strong understanding of the role keywords play in getting your website in front of your target audience. There are thousands of ways that users might search for products or services like yours. So what are keywords and their role in SEO strategy?
What are Keywords in SEO?
Keywords are the words and phrases that people enter into search engines. Searchers use keywords to find what they are looking for, and search engine bots use keywords to understand what kind of content users want.
Another common way of thinking about keywords is the term search intent. Keywords communicate the search intent of the user, for example if they want to make a purchase, compare products, read reviews, or something else.
What Are the Different Types of Keywords?
There are four primary types of search intent every business owner should attempt to address with their web page content:

Informational

. These come from users who are searching for an answer to a question or want more information on a product or service.

Commercial.

Meant for users who are searching for a specific brand, product, or company, and are contextual keywords.

Navigational.

Consumers looking to find a specific site or page.

Transactional.

Customers who are looking and are ready to complete a purchase.
Within these four categories, there are two popular subsets of keywords:

Head terms:

 These are short terms of either one or two words.

Long-tail: These are longer phrases and can be anywhere from a few words to an entire sentence long
It's important to note that more than 70% of all keyword searches are long-tail. The majority of people use conversational queries when using search engines. Publishing multiple pages on your website that target long-tail keywords can be an easy, affordable way to expand your market share.
Using Keywords
When a user performs a search relevant to your business, we want that user to see your website listed in the search results. It doesn't matter if you have the best products/services on the planet if a potential customer can't find you.
There are two ways to use keywords to show up in searches:
Buy Search Ads (Google Ads, Bing Ads)
Optimize for Organic Search
Method for Using Keywords #1: Buying Search Ads
You can show up in the search results for various keywords by creating search ads that will display whenever a user searches for the keywords you've selected.
After you create an ad or ad campaign, the platform you are using (ex: Google Ads) will ask you to enter your target keywords. Pro tip: if you're just getting started with ads, less is more when it comes to keyword targeting, it's best to start with just a handful of high-value terms.
Method for Using Keywords #2: Optimize for Organic Search
The other way to show up in the search results for a keyword, is to optimize your site for that keyword. This is a two part approach: you first have to make sure your site has content relevant to that keyword, and then second you have to get some other sites linking back to yours referencing that content.
Buying ads costs direct money (you pay per click), and optimizing for organic search costs indirect money (time and effort to create content and optimize pages). So we want to narrow down our focus to just the keywords that are likely to provide your business the most value.
Remember: Ads can be quick wins, but will cost you more over time, they're like renting space in the search results where SEO investments may take slightly more time, but you're building search equity and earning your spot more permanently.
Keyword Metrics
Let's put search intent aside for a moment, and look at the other ways we can establish which keywords are good targets for your business.
Here are examples of important keyword metrics as seen in the SearchAtlas Keyword Researcher. Let's walk through what each of these metrics are and what they mean.
Keyword Difficulty (KD)
This is a metric that measures how difficult it is to rank in search results for this term organically. The scale goes from 1-100 with 100 being most difficult. Websites with higher Domain Authority stand a better chance of ranking for more competitive keywords.
How do I use this info?
The best way to use Keyword Difficulty is as a part of your decision for whether or not you're going to target the keyword with organic optimization.
Terms with a keyword difficulty of 35 or less are usually relatively easy to move with onsite and offsite SEO improvements.
Terms with a keyword difficulty of 60 or more are going to take a LOT of SEO investment if you want your site to show up on the first page of search results.
If the Keyword Difficulty score is really high, but the CPC is really low, you may be better off buying ads than trying to rank organically.
Example from the Above Keyword Searches
The keyword enterprise seo has a KD of 81. This is a very competitive keyword to rank for organically, sofor a website just starting out, this keyword would likely be too competitive to target.
However, the keyword enterprise seo services has a KD of 54, meaning less competition to rank in organic positions but very similar search intent.
Cost Per Click (CPC)
This metric is how much advertisers are paying to target the keyword in Google Ads campaigns. A high CPC tells you that other businesses think searches using this keyword will result in a sale. The higher the CPC, the more valuable the sale is to other businesses.
How do I use this info?
For paid media, the benefit of low CPCs is obvious — lower costs. But for SEO campaigns, CPC can be used to help determine keywords that are good candidates for organic optimization.
Low CPCs show keywords with more informational or navigational search intent. Low CPCs equate to lower conversion potential
High CPCs show keywords with more transactional or commercial search intent. High CPCs equate to higher conversion potential.
Using CPC in conjunction with KD is a great way to find organic keyword target that are realistic to rank for but still have strong buying intent.
Example from the Above Searches
The keyword enterprise seo services has lower keyword difficulty, but the highest CPC on the above list. If your brand invested in on-page seo for your landing page, off-site seo, and some supporting blog content, your brand could probably ranking on the first page of search results for this term within 3-6 months. In the long run, that might be more cost effective than paying for paid search ads over time.
Search Volume
This metric tells you how many users are performing searches for the keyword each month. A high search volume tells you that if you rank on the first page of the search results for the keyword, you are likely to get a lot of users hitting your site.
How do I use this info?
If you're looking at two keywords that have similar keyword difficulties, similar CPCs, similar search intent, but one has higher search volume – that's the one you should target with organic search optimizations (i.e. improving your onsite content to target that term).
Example from the Above Searches
All of the above searches have a meaningful search volume. The higher search volumes for the keywords enterprise seo and seo for enterprise are likely due to the significantly higher Keyword Difficulty scores. Although ranking for those keywords would be great, remember it is more competitive. So for organic SEO purposes, targeting the terms with 480 and 500 Search Volumes can still have tremendous benefits.
The true VALUE of a keyword is the number of converting users that keyword can draw into your site. The number of users is measured by search volume and the conversion likelihood is measured by CPCs and search intent.
Remember – don't get lost in the data! A keyword could have great volume, high CPC, low difficulty, and STILL be a bad choice for your specific business if the term has nothing to do with what you sell or offer or the content on your website.
High-value keywords are ones that bring CONVERTING users to your site.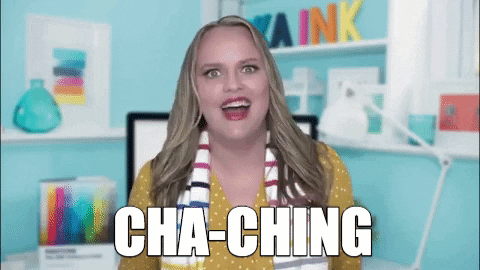 4 Rules for Choosing Keywords for SEO
Rule #1: Always try to target keywords that are likely to bring users to your site who convert.
Indicators that a keyword is likely to convert:
High CPC
Very specific (long-tailed)
Aligns with your products/services
Clear search intent
You've seen the term convert for your site already (through your Google Analytics, Google Ads, or Google Search console)
Rule #2: Try to pick keywords that will pull the MOST converting users into your site.
500 conversions are better than 50 conversions (remember best case scenario, in position 1 of the search results your click-through-rates will average 33% of all traffic for the keyword). For example, here is the traffic share by position for the keyword enterprise SEO.
Make sure you choose keyword that have meaningful search volume, otherwise you will be optimizing your website for no one.
Rule #3: Always do extensive keyword research before you invest in organic optimizations.
You can use keyword research tools like google keywords planner or SearchAtlas to do keyword research. Ideally, each one of the landing pages on your website should be targeting a different keyword, meaning you'll need to find multiple relevant keywords to deploy a comprehensive SEO strategy.
You can also use the Content Researcher tool in your dashboard to identify whether or not a keyword is a realistic target for your website. Here's a video tutorial walking you through the process.
Rule #4: Spend wisely – know when to invest in SEO improvements vs. paid ads.
If you are still in the early stages of determining whether to spend your digital marketing budget on SEO paid ads, make sure you consider all of the important keyword information above. Ideally, you will likely want to have some combination of both strategies.
Invest in SEO Improvements in the following scenarios:
Low-Hanging Fruit
Quick wins.
CPC is high
Search volume is high
Keyword difficulty is low
Search intent is clear
Precision Strikes
Quick wins.
CPC is very high
Search intent is clear
Keyword difficulty is low
Search volume is low
High-Return Investments
        These are terms that will take you longer to rank for, but will have a huge impact on your business.
CPC is High
Search Intent is Very Clear
Keyword Difficulty is Medium or High
Search volume is high
Consider buying Ads in the following scenarios:
Work Smarter Not Harder**

Keyword difficulty is high
CPC is low
Search Intent is Clear
Note: volume doesn't matter as much with PPC ads
While We Wait

CPC is High
Search Intent is Very Clear
Keyword difficulty is Medium or High
Search volume is high
You've decided to make an SEO investment in the term, but it's going to be a while before you're ranking on the first page of the search results.
LinkGraph's Keyword Researcher Tool
If you're interested in learning more about the best keywords to target for your site, sign up for a free account and check out our Keyword Researcher.
Here are some of the key metrics you can check with the help of the Keyword Researcher:
Keyword Difficulty, Search Volume, and CPCs
Search volume trend over time
Search volume by country
Top-ranking web pages
Suggested keywords, related autocompletes and questions
You can easily add keywords to a list and export to a spreadsheet to share with key members of your team.
If you want to target multiple keywords with every web page on your website, you may want to consider a keyword clusters strategy. If you need help with choosing the right keywords for your SEO campaigns, schedule a meeting with one of our SEO strategists.